Frequently Asked Questions
Get a Free Quote Today!
We will send you a quote that is reasonable and allows us to guarantee
that your home is Squeaky Clean.
Why Squeaky Cleaning?
Our name embodies exactly what you want: a squeaky clean space. Our team is dedicated to providing a professional 5-star experience, every time. Our customer service representatives are always available to help answer any questions you may have. Send us an email, give us a call, or chat with us online using the chat box in the bottom corner of the screen.
How do I get a quote?
Go to our Book Now page, enter the size of space, type of cleaning desired, and the current condition of the property to generate an instant quote. Each quote is based on the number of hours spent cleaning.
How do I book a cleaning?
The Squeaky Cleaning online booking process is simple and straightforward. First, choose from our available cleaning services, including general cleaning, deep cleaning, or move-in & move-out cleaning. Our quotes are generated based on the number of hours spent cleaning. If extra time is needed, our cleaning team can stay longer to ensure everything is completed to the highest standards.
Tell me more about your cleaners.
Our hand-picked Squeaky Cleaners are professional, friendly, and highly experienced. We are very proud of our dedicated team and work hard to exceed our customers cleaning expectations.
What's the difference between General Cleaning, Deep Cleaning, & Move-in / Move-out Cleaning?
General cleaning includes all the routine cleaning tasks that are typically required to keep a property in good shape. Deep cleaning, on the other hand, is required when a property hasn't been cleaned in a while and extra work is needed to elevate it back to a high standard of cleanliness. Deep cleanings typically take more time. Move-in & move-out cleanings are deep cleanings that are carried out between a property's occupants.
Will you bring your own cleaning supplies?
Our cleaning team will arrive with all the necessary cleaning supplies and tools to get the job done right. Prior to your cleaning appointment, we encourage customers to share detailed notes of everything they would like cleaned. If you require us to bring our own vacuum, please select "Rent a Vacuum" at the time of booking and an additional charge will apply.
How can I change or cancel my booking?
Bookings are 100% flexible. Right up until 48hr in advance of your scheduled cleaning, you can change the date and time, or cancel your booking free of charge. Please let us know before 48hr in advance to avoid our $79 cancellation fee.
Will I receive a booking confirmation?
Definitely! Immediately following your booking completion, an automated confirmation email will be sent to you. Included in the email will be your login details to our Client Portal where you can view your upcoming appointments, add any additional notes or comments, and make any necessary changes.
If I book a recurring cleaning service, will it be the same cleaner every time?
Yes, for recurring service clients, we always send the same cleaner because they are familiar with your home and expectations. As a recurring customer, you will always be given first priority to choose your favorite cleaners.
What areas do you serve?
To complete my booking, is a credit card required?
We do require a credit card number at the time of booking. A hold will be placed on your credit card for the cleaning amount two days before your appointment. You will not be charged until after the cleaning is complete.
How many cleaners will you send?
The number of cleaners we send will vary based on the length of cleaning and availability. For bookings that are 4 hours or less, we will send a single cleaner. For 5+ hour appointments, we typically send 2 cleaners (2 cleaners for 2.5hr each, totaling 5hr of cleaning time). For jobs that are 9+ hours, will will send 3 cleaners (3 cleaners for 3hr each, totaling 9hr of cleaning time). Our cleaning teams work together to split the total number of cleaning hours that are booked.
What don't you clean?
Here is a list of what we don't clean: human / pet waste or bodily fluids, vermin infestations, exterior windows or unsafe balconies or anything that can't be reached with a step stool. We will only clean accessible areas and cannot clean areas that we can't physically reach. If you have high ceilings or hard to reach places, please mention this during the booking process and send us photos to ensure we are equipped to clean to your satisfaction.
Tell me more about your Satisfaction Guarantee?
We guarantee that you will be fully satisfied with your cleaning. Our cleaners are hardworking, honest and trustworthy individuals. They take their responsibilities very seriously and will work very hard to exceed your cleaning expectations. It is important to be realistic about the total number of cleaning hours required to complete everything you require. Booking the correct number of hours is necessary to complete a cleaning to a high standard of cleanliness. Exceptional cleaning takes time, and depending on the level of detail you require, the cleaning could take longer than your original booking estimate. This is why we require clients to meet with our cleaners upon their arrival and do a walkthrough of the property to set expectations. It is also important to return back before the cleaners have finished to authorize extra time, if needed. If you are not satisfied with the results, please contact us within 24 hours to discuss. Your satisfaction is our top priority.
Can you clean while I'm not home?
Yes, it is possible for us to clean when you are not home. We recommended that you meet with the cleaners upon their arrival and do a detailed walkthrough of the property, outlining your expectations regarding everything you would like cleaned. If you cannot be present for the walkthrough, it is very important to share detailed instructions of your expectations prior to the cleaning date. Also, please provide access information in advance (e.g. lockbox code or visiting the front desk receptionist).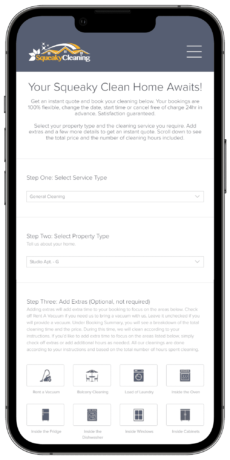 BECOME SQUEAKY CLEAN
Get an instant quote, anytime or anywhere, with our easy to use, mobile friendly system.