We make your place Squeaky Clean!
Your trusted Hollywood Florida cleaning team is always here with a smile!
Get a Quote Now!
If you are looking for the best cleaning company in Hollywood, Florida. Look no further than Squeaky Cleaning.
For cleaning services in Hollywood, Florida, we will provide a quote that is fair and allows us to ensure
your place is Squeaky Clean.
3 Simple Steps to a Squeaky Clean Space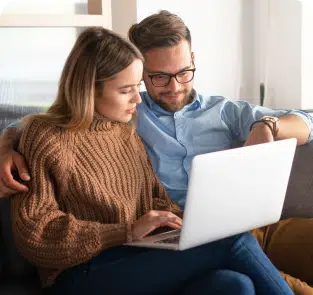 BOOK
Simply choose a date and time
for Hollywood cleaning services
that works best for you.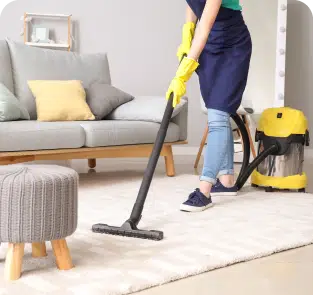 SQUEAKY CLEAN
Members of our Squeaky Cleaning
team will clean your space.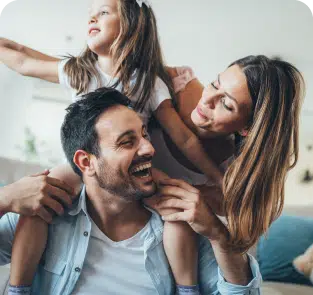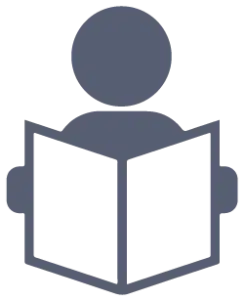 ENJOY
Relax and enjoy your
Freshly Cleaned home!
House Cleaning Services Hollywood Florida
If you're looking for an effortless, stress-free way to keep your home tidy and organized, look no further than our house cleaning services in Hollywood, Florida.
Our customized cleaning services schedule is available that fits your busy lifestyle and is flexible with your daily routine. We put all in efforts into making it easy for you and to keep your home looking its best.
Please choose from our services for weekly, bi-weekly, or monthly cleanings or a one-time cleaning for move-in/move-out and special events. Our experienced team of professionals will arrive on time and provide a thorough, premium clean that you can trust.
Best Maid Services Hollywood Florida
Squeaky Cleaning cleaners is the premier provider of maid services in Hollywood, Florida. Our team of friendly and experienced professionals is dedicated to providing you with the highest quality service every time. We understand that you need a reliable cleaning service, and we are here to provide exactly what you need.
We offer a wide range of services, including kitchen and bathroom cleaning, dusting, and floor cleaning. And if you need additional tasks, ask – we're always happy to help. Plus, we bring all the necessary supplies and equipment, so you don't have to worry about extra costs.
Trust Squeaky Cleaning cleaners for all your Hollywood maid service needs, and you won't be disappointed. Contact us now or book online our best maid cleaning services today!
Deep Cleaning Services Hollywood Florida
Getting deep cleaning services in Hollywood is recommended once or twice a year to eliminate hidden dust and dirt. With a deep cleaning service in Hollywood, we do regular cleaning and much more. We will get to the hard-to-reach areas like your ceiling fan and high light fixtures. We also get behind appliances to get rid of dust and clean inside appliances like your oven.
Squeaky Cleaning deep cleaning services in Hollywood include detailed projects like conditioning wooden furniture and flooring and steam cleaning your drapes, carpets, and rugs. Contact us now or book online our best deep cleaning services today!
Custom Home Cleaning Services
There is a lot of value in custom home cleaning services Hollywood. Premium cleaning services in Hollywood let you name the important things to focus on when it comes to your house. A premium home cleaning service in Hollywood can be scheduled around your needs. If there are particular things you want to be done, please let our cleaners know, and they will ensure to get this done correctly. They are highly efficient, friendly, and helpful. When you choose Squeaky Cleaning as a premium home cleaning Hollywood company, you can expect first-class service and a guarantee of satisfaction every time.
Residential Cleaning Service Cost
You'll be surprised at how reasonable Hollywood residential cleaning is. Even with the premium cleaning services Hollywood offers by Squeaky Cleaning, it's an affordable expense worth its weight in gold. As we have efficient cleaners with years of experience, the cleaning time is cut down in many cases. All the products and equipment are included in Hollywood residential cleaning, so you don't have to purchase them. That's a saving that adds value to Hollywood house cleaning services.
About Squeaky Cleaning
When you use Squeaky Cleaning for your cleaning needs at your home in Hollywood, you'll be happy with the benefits. We are committed to customer satisfaction, which shows in everything we do. From speaking to our friendly office staff to the cleaners that come to your home, you'll be treated like an important client. We offer premium cleaning services while still making them affordable. We do all we can to ensure you're satisfied with the high-quality cleaning and customer service you receive.
We have created a company mantra to make our customers happy. Our reviews have shown that our mission is working with so many five-star reviews from past clients. Based in Hollywood, Florida, we offer you a team of the best cleaners. We hire only the best and then train them to our high standards. You'll see consistent quality as a result of our hiring and training. Many of our cleaners have been in the hospitality and cleaning industry for over a decade.
We have found this recipe to create happy customers, which is reflected in the reviews we've received from our clients. Our guarantee is that you'll have an excellent home cleaning every time with friendly cleaners that work hard to make your home sparkling clean. 
Our commitment to your satisfaction is reflected in every cleaning. Here's how we do it:
Trained and professional cleaners who love what they do

Most cleaners have over ten years of experience

100% satisfaction guarantee

Affordable rates

Online booking system that's easy to use

Amazing customer service

Many five-star reviews
Home Cleaning Becomes Easy With Squeaky Cleaning
Having a regular home cleaning service makes it easier to keep your home cleaner. As you don't have to do the major cleaning, you can do some tidying and clean daily. Your home becomes fresher and a nicer place to spend time in when you have a regular home cleaning service doing a professional cleaning.
We prioritize your safety and security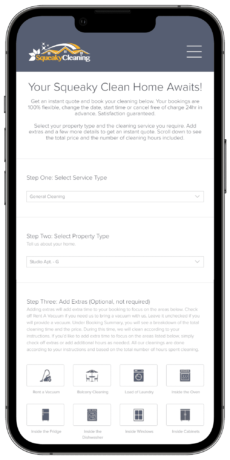 BECOME SQUEAKY CLEAN
Get an instant quote and book your cleanings, anytime or anywhere, with our easy to use, mobile friendly system.
Testimonials
Kelsy O.
"Gladys from Squeaky Cleaning did a fantastic job! Very thorough and professional."
Nikolaos K.
"Nothing more to say. My place was squeaky clean :)"
L'ho P.
"Had a great experience with the service."
Maripaz V.
"Fast and thorough. Very happy with their service, have used them twice for two different properties."