We make your place Squeaky Clean!
Your trusted Los Angeles cleaning team is always here with a smile!
Get a Quote Now!
For cleaning services in Los Angeles, we will provide a quote that is fair and allows us to ensure
your place is Squeaky Clean.
3 Simple Steps to a Squeaky Clean Space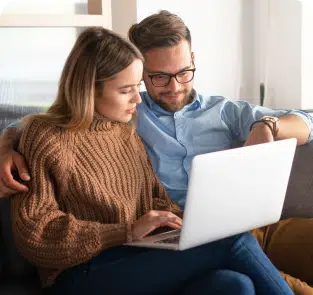 BOOK
Simply choose a date and time
for Los Angeles cleaning services
that works best for you.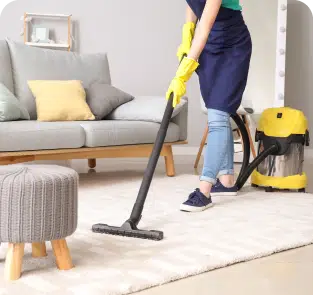 SQUEAKY CLEAN
Members of our Squeaky Cleaning
team will clean your space.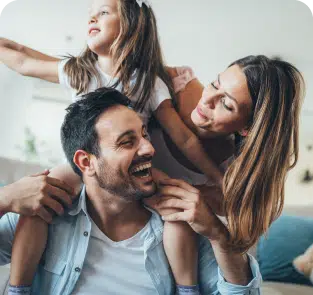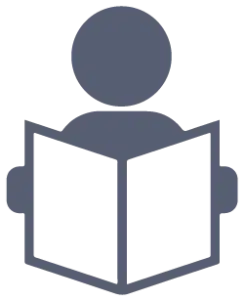 ENJOY
Relax and enjoy your
Freshly Cleaned home!
House Cleaning Los Angeles
If you're looking for house cleaning in Los Angeles, there are a few things you'll want to consider. First off, think about what you will need from house cleaning services Los Angeles and how much are you willing to spend? Will you be looking for cleaning Los Angeles services that offer you deep cleaning or will it just be weekly general cleaning? Cleaning services Los Angeles frees your time up and allows you to do the things you enjoy. This means more time with family, friends, and hobbies. If you're not great at cleaning or simply don't have the time, we recommend checking out house cleaning Los Angeles options.
Best Maid Service Los Angeles
If you're looking for maid service Los Angeles options, you'll want to consider a few things. One of the most important considerations is finding the best maid service in Los Angeles at the most affordable rates. You can do a search online for maid services Los Angeles or cleaning services Los Angeles. This can help you to find a list of the top maid services Los Angeles offers.
You can find reviews and see if they offer what you're hoping to get from a cleaning service. You may hear about a great maid service Los Angeles offers through word of mouth as well. The top maid services Los Angeles offers will come with guaranteed cleanings and friendly staff. They will be background checked and vetted for having a good knowledge of cleaning. They can create a schedule and curate cleaning tasks for your needs.
Deep Cleaning Services Los Angeles
When looking for deep cleaning services Los Angeles offers, you'll find that it's different from traditional cleaning services Los Angeles. They are usually more expensive because it takes much longer. Deep cleaning service in Los Angeles will tackle some of the areas that aren't done during regular cleaning. This is based on your needs as a customer. Maybe you need some high windows cleaned inside or the blinds need proper cleaning.
A great deep cleaning Los Angeles service will meet your needs and exceed your expectations. Deep cleaning services Los Angeles ensure your home is clean of unseen dust and dirt. They get into all the nooks and crannies of your home for a complete clean. Deep cleaning service in Los Angeles should be done once or twice a year.
Custom Home Cleaning Services in Los Angeles
When it comes to home cleaning services Los Angeles, you have plenty of companies to choose from. However, you want to make sure that you choose a home cleaning Los Angeles option that you can trust. Not all home cleaning services in Los Angeles are the same. If they're highly professional cleaners, they will clean your house really well and quickly. Cleaning services Los Angeles staff should be friendly and trustworthy so you feel good about letting them into your home.
Los Angeles House Cleaning Service Cost
When it comes to Los Angeles house cleaning costs, they can vary largely. While there are cleaning services Los Angeles that are less, they may not have vetted, trustworthy, and experienced cleaners. You might pay in excess for top Los Angeles house cleaning services that charge you extra for every little task you ask for. Finding a Los Angeles house cleaning company that offers you reasonable rates for top cleaners is the perfect combination.
About Squeaky Cleaning
You will see great benefits when you decide to get the Squeaky Cleaning company to clean your home in Los Angeles. We offer reliable service with a focus on your total satisfaction. We provide professional cleaning in Los Angeles while still being affordable. You can expect friendly, experienced cleaners as that is our major focus. We want you to be satisfied with the quality of cleaning and the customer service you get from our staff. We have found this recipe to create happy customers, which is reflected in the reviews we've received from our clients.
We are based in Los Angeles. Once we've chosen the best cleaners, we train them to our standards. At Squeaky Cleaning, you'll get the same standard of cleaning every time as a result of our training. Many of our staff members have over 10 years of experience in both cleaning and hospitality. We focus on customer satisfaction, giving you a fantastic experience thanks to our friendly, hardworking cleaning staff. They love their job, and it shows.
Our commitment to your satisfaction is reflected in every cleaning you get. We commit to the following:
Professional cleaners trained to the highest standards
Over 10 years of experience
100% satisfaction guarantee
Reasonable rates
Easy-to-book online appointments
Unrivaled customer service
Five-star reviews from customers
Home Cleaning Becomes Easy With Squeaky Cleaning
If you're looking for a home cleaning service, we suggest looking at what's available in Los Angeles. To do this, you can do an online search with this text, "home cleaning services near me" and look at the reviews of top companies. At Squeaky Cleaning, we have great reviews for cleaning services in Los Angeles. We consciously offer great customer service combined with impeccable cleaning practices. We are flexible when it comes to your home cleaning service needs and it's easy to book online. We make it easy for you to get your home clean and work around your schedule.
We prioritize your safety and security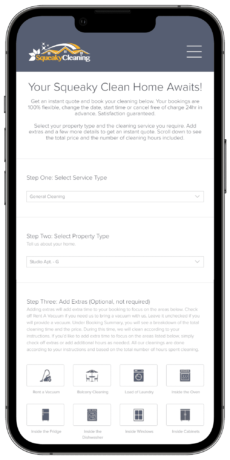 BECOME SQUEAKY CLEAN
Get an instant quote and book your cleanings, anytime or anywhere, with our easy to use, mobile friendly system.
Testimonials
Theresa A.
"I had to call for a last minute deep move out clean as the company I originally scheduled didn't call or show. Michelle and her team were amazing!! They got in for the clean done quickly but great job kind and wonderful to work with!"
Ken B.
"Excellent cleaning. My house was dust free and sparkling. Floors and bathrooms were shining."
Saville K.
"This team did a great job preparing and maintaining an Airbnb that we stayed at. Cleanest and most well prepared Airbnb that we have ever stayed at, period."
Erin T.
"Very happy with the cleaning, everything was shiny and tidy."