Get a Quote Now!
Looking for the ultimate cleaning solution for your home in Los Angeles, CA? Look no further than our professional house cleaning services. Our team of experts has years of experience in the cleaning industry and is dedicated to providing you with a personalized service that meets your unique needs and preferences. Whether you need a one-time deep cleaning or ongoing maintenance, we've got you covered.
For cleaning services in Los Angeles, we will provide a quote that is fair and allows us to ensure
your place is Squeaky Clean.
3 Simple Steps to a Squeaky Clean Space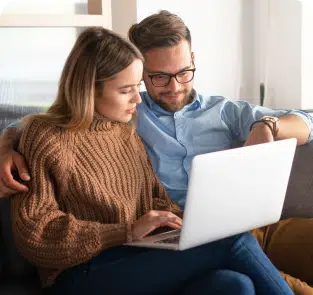 BOOK
Choose a date and time
that works best for you.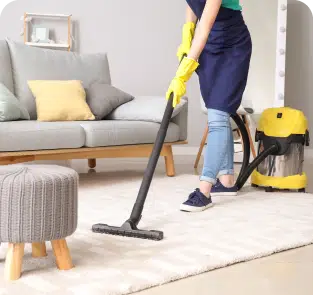 SQUEAKY CLEAN
Members of our Squeaky Cleaning
team will clean your space.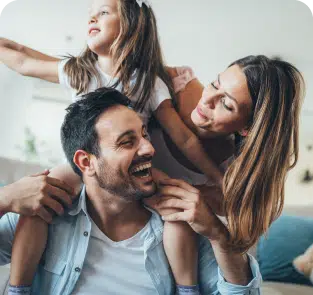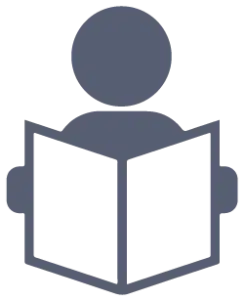 ENJOY
Relax and enjoy your
Freshly Cleaned home!
House Cleaning Los Angeles
Are you looking to free up your time and return to doing what you enjoy? Let our house cleaning services in Los Angeles do the dirty work for you! Whether you need a deep clean or just a weekly spruce-up, our cleaning services in Los Angeles provide an affordable, efficient solution.
We know that every home is different, so we'll work with you to create a cleaning plan tailored to your needs and budget. With our team of experienced, professional cleaners, you can trust that your home is in good hands. Get back to the things you love—let us handle the house cleaning in Los Angeles! Contact us now or book our best house cleaning services online today!
We use only the highest quality cleaning products and equipment to ensure that your home is spotless from top to bottom. From dusting and vacuuming to scrubbing and disinfecting, our team of experts will leave no corner untouched.
So why wait? Book our professional house cleaning services in Los Angeles now and experience the difference our deep cleaning services can make. A cleaner, happier home is just a phone call away. Contact us directly or book online!
Best Maid Service Los Angeles
Looking for a reliable and affordable maid service in Los Angeles? Look no further! Our professional cleaners are carefully selected, background-checked, and highly experienced in all aspects of housekeeping.
We take pride in providing top-notch cleaning services tailored to meet your specific needs. Simply tell us your requirements and preferred day, and we'll take care of the rest. With many satisfied customers who have been using our maid services for years, we have earned a reputation as one of the best maid services in Los Angeles.
Our commitment to quality and customer satisfaction is why we come highly recommended by word of mouth. To learn more about our services or to book an appointment, don't hesitate to contact us today and receive a free quote.
Deep Cleaning Services Los Angeles
Our deep cleaning services in Los Angeles are designed to ensure that every nook and cranny of your home is spotless. Our experienced cleaners go above and beyond traditional cleaning services, taking the time to remove unwanted dust and dirt from all areas of your home. Our deep cleaning service will leave your windows, blinds, and other home areas spotless and shining.
At Squeaky Cleaning Los Angeles, we are dedicated to exceeding your expectations every time, and our deep cleaning services are competitively priced. We recommend scheduling a deep cleaning of your home at least once or twice a year for optimal cleanliness and hygiene.
Contact us today to schedule your deep cleaning and discover why we are the premier deep cleaning service provider in Los Angeles.
Custom Home Cleaning Services in Los Angeles
When it comes to home cleaning services in Los Angeles, you have plenty of options to choose from. However, it's essential to choose a company that you can trust. Not all home cleaning services are the same, and you want highly professional cleaners who can clean your house quickly and thoroughly.
At Squeaky Cleaning Los Angeles, we understand that the friendliness and trustworthiness of our staff are critical factors in making you feel comfortable with letting them into your home. We've got you covered with all your house cleaning needs, so you can rest assured that your home is in good hands.
Los Angeles House Cleaning Service Cost
When it comes to Los Angeles house cleaning costs, prices can vary widely. At Squeaky Cleaning Los Angeles, we understand the importance of finding a reliable yet affordable house cleaning service in Los Angeles. Our team of vetted, trustworthy, and experienced cleaners provides top-notch service at rates tailored to fit your budget. Plus, we never charge extra for additional tasks.
You can trust that we offer the perfect combination of affordability and quality. As expert cleaners in Los Angeles, we're dedicated to making sure your home is spotless and shining. Contact us today to book your cleaning appointment and experience the best cleaning service in Los Angeles.
Our Deep House Cleaning Process
A comprehensive dusting of all surfaces, including furnishings, decorative items, and baseboards, is carried out to eliminate any gathered dust and allergens.

All floors are vacuumed and mopped to remove dirt, debris, and pet hair.

The kitchen appliances, countertops, and sink are thoroughly cleaned to eliminate grease, grime, and food residue.

Bathrooms, including toilets, showers, and bathtubs, are scrubbed to remove soap scum and hard water stains.

High-touch surfaces, such as doorknobs, light switches, and handles, are sanitized to reduce the spread of germs and bacteria.

Windows and mirrors are thoroughly cleaned, leaving them spotless and crystal clear.

We offer customizable cleaning service plans to meet your specific needs, ensuring that every corner of your home is cleaned to your satisfaction.
About Squeaky Cleaning
When you choose Squeaky Cleaning to clean your home in Los Angeles, you can expect great benefits. Our focus is on your total satisfaction, providing reliable and professional cleaning services in Los Angeles at an affordable price. We hire only friendly and experienced cleaners who are committed to providing high-quality cleaning services and excellent customer service. Our happy customers have left us glowing reviews, which we are proud of.
As a Los Angeles-based company, we train our cleaners to meet our high standards, ensuring that you receive consistent and exceptional service every time. Many of our staff members have over 10 years of experience in both cleaning and hospitality, making them experts in their field. We prioritize customer satisfaction, and our hardworking cleaning staff will ensure that you have a fantastic experience with us. They love their job, which shows in their work quality.
Choose Squeaky Cleaning for reliable, affordable, and professional house cleaning services in Los Angeles.
Our commitment to your satisfaction is reflected in every cleaning you get. We commit to the following:
Professional cleaners trained to the highest standards
Over 10 years of experience
100% satisfaction guarantee
Reasonable rates
Easy-to-book online appointments
Unrivaled customer service
Five-star reviews from customers
Read more here about why we are a good fit for your cleaning needs.
Home Cleaning Becomes Easy With Squeaky Cleaning
If you're searching for a home cleaning service, we recommend exploring the options available in Los Angeles. You can start by doing an online search with the phrase 'home cleaning services near me' and checking out reviews of top companies. At Squeaky Cleaning, we pride ourselves on providing exceptional customer service and high-quality cleaning. We offer flexibility in meeting your home cleaning needs, and you can easily book our services online. Our goal is to make it hassle-free for you to have a sparkling-clean home while working around your schedule.
We prioritize your safety and security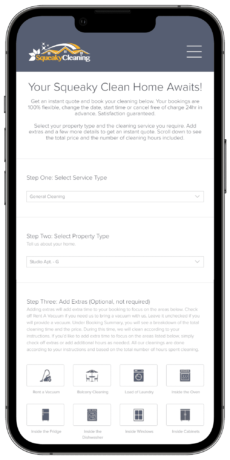 BECOME SQUEAKY CLEAN
Get an instant quote, anytime or anywhere, with our easy to use, mobile friendly system.
Testimonials
Theresa A.
"I had to call for a last minute deep move out clean as the company I originally scheduled didn't call or show. Michelle and her team were amazing!! They got in for the clean done quickly but great job kind and wonderful to work with!"
Ken B.
"Excellent cleaning. My house was dust free and sparkling. Floors and bathrooms were shining."
Saville K.
"This team did a great job preparing and maintaining an Airbnb that we stayed at. Cleanest and most well prepared Airbnb that we have ever stayed at, period."
Erin T.
"Very happy with the cleaning, everything was shiny and tidy."