3 Reasons to Use Holiday House Cleaning Services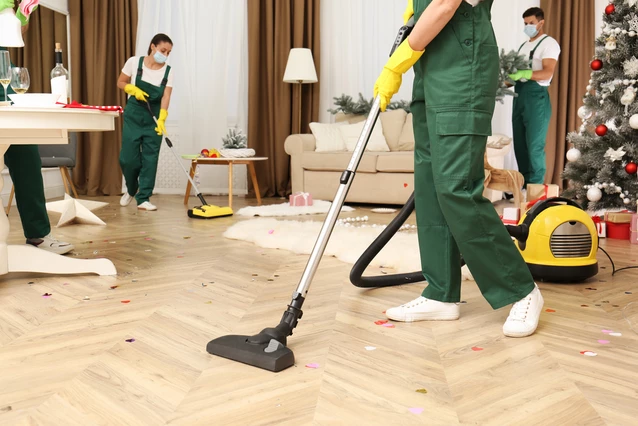 Holiday Cleaning Services
No matter what holiday it is, it's always a busy time. If you're having people over for Christmas, New Year, Easter, or birthday parties, it entails a lot. A host can greatly benefit from holiday cleaning services. Finding the time to do a thorough clean of your home is hard to do. At the same time, it's important because you don't want people to come to a messy house. Here are three reasons why holiday cleaning services are so valuable.
Hosting Loved Ones From Out-of-Town
When everyone is coming to your home for the holidays, you want them to feel comfortable. You'll likely have a lot of preparations to do so cleaning your house can be a lot to manage on top of everything else. This is why holiday cleaning services can be helpful. It saves you a lot of time and they do the job right. Professional cleaners can do the job more quickly and when they're done, your house is spic and span. It's enough to impress even the biggest neat freaks.
Clean Up Before and After Events
If you're not having overnight guests but you are throwing a holiday party, you can hire holiday cleaning services for this too. If you're having a party, you can have cleaners come in beforehand and do the housework. This frees you up to focus on hosting your party while the cleaners work their magic on your home.
Once the party is over, you can have the cleaners come back and do the clean-up. A party is often pretty messy and while professional cleaners don't usually clean up dishes, they can do a special exception if you request it. With holiday cleaning services, you can have your house tidied and cleaned up.
A Healthy Environment for All
There are a lot of germs we come into contact with. During the holiday season in December, we rarely have the windows cracked open because it's cold outside. Having holiday cleaning services come in and get rid of all the dust and dander makes your house a healthier place to be in. They will also disinfect while they clean, getting rid of germs before guests arrive and once they've left. Professional cleaners are very good at identifying where dirt, grime, and germs are so they will efficiently create a more healthy environment in your home for everyone.
Treat yourself to holiday cleaning services so you can focus on the festivities and do the things you like to do. There are so many benefits to it. You will have a lot of entertaining to do so you'll need your energy for it.
For professional house cleaning Seattle, contact us today!