How to Clean Brick Fireplace
If you're looking for methods to clean a brick fireplace, you'll find it easier than you think. There's a solution to everything as well. Even the toughest stains can be tackled, and the final result will leave you with a stunning fireplace that updates the whole room. Using the right materials is not all that challenging or time-consuming. Whether the brick has darkened, cobwebs, or stains, there are easy ways to tackle the job. You can enjoy a brick fireplace that looks as good as new in just a few simple steps.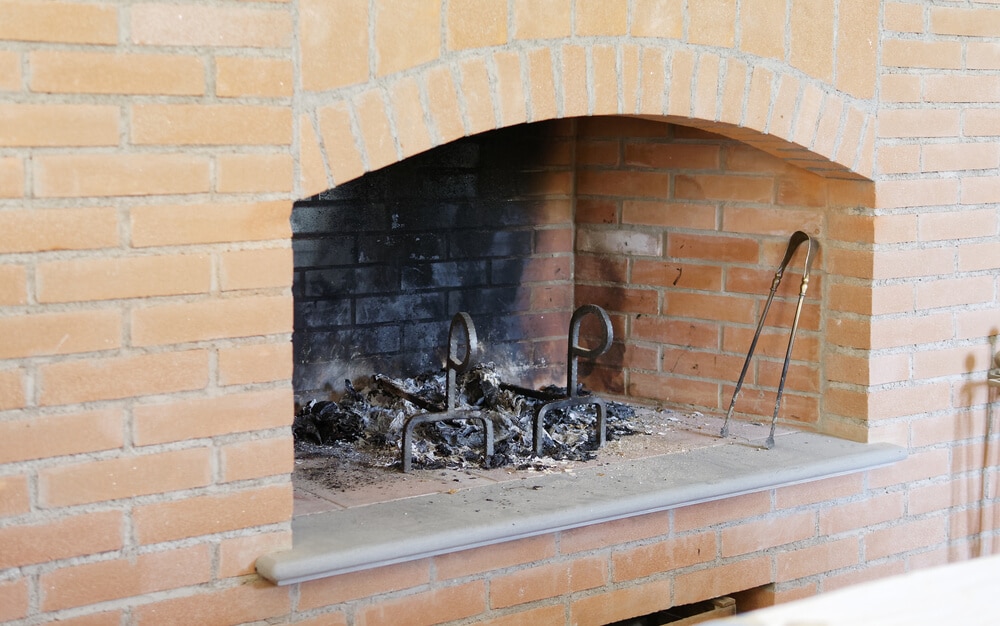 How to Clean Brick Fireplace With a Vacuum
You can use a vacuum cleaner with a brush attachment to remove dirt and dust. If there are areas where dirt is stubborn, use a handheld bristle brush and some elbow grease. If the dirt is still stuck on and you can't get it off, you can deal with it later as you start to work with soap and water on your brick fireplace. 
Clean with Water First
First, you'll want to get the brick wet before you do anything else. Please don't add a clever as the dry brick will absorb it, which can cause fading. Green or white scum may form from the cleaners on dry brick. Fill a spray bottle with water and spray liberally on the entire surface of the brick fireplace. If you are cleaning a brick fireplace outside, you can use a garden hose with a spray nozzle.
Scrub the Brick
Once the brick has been thoroughly watered, you'll want to scrub it with an at-home natural mixture of dish soap and table salt. You'll want to make a spreadable paste that you can then spread onto the brick in an even layer. Start from the top and work your way down, spreading the mixture onto the brick. Let it sit for up to 10 minutes. Then you scrub the paste into the brick with a bristle brush. You'll need to make quite a bit of the mixture as about 240 ml is required for each brick if it's standard size. To remove the paste, use a wet washcloth to wash it off.
Use a Sealant
Once you've cleaned your brick fireplace and it looks great, you can use a sealant so that it retains the look for longer. You'll want to make sure the brick is completely dry. To be safe:
Put the sealant on a few days after cleaning. You can spray siloxane or other silane sealants on the bricks.

Keep the nozzle of the sealant quite a few inches away to create an even consistent coating. You'll want to ensure the room has good ventilation if it's inside.

Open all your windows and use an oscillating fan in the room. 
How to Clean Brick Fireplace From Stains
You want to vacuum the brick first and then get it wet before putting any cleaning solution on it. You'll use an acid cleaner that you can remove later on. As acid cleaners are toxic and corrosive, you'll need to do some prep beforehand. 
Make sure to cover any objects that could expose to the acid before you start using it. Use a drop cloth or a tarp around the stained brick. You don't want to get the acid on any brick that isn't stained. Make sure to use safety goggles and rubber gloves when you use acid cleaners. They are hazardous and can cause injuries if your eyes or skin should come into contact with it.
How to Clean Brick Fireplace of Stains
Make sure to look at the safety instructions of the specific cleaner you're using and follow them. 

Mix half a bucket of water with a small amount of acid cleaner. You can check the instructions for the exact ratio to use. 

Pour the acid into the water as opposed to adding water to the acid. This prevents splashes that could cause chemical burns. 

Apply acid to the brick by dipping a bristle brush into the cleaner. Apply the area that is stained only.

Let it sit for up to five minutes.

Use a clean bristle brush damp with water to scrub the stain away.

Hose off the brick if possible, or use a dampened, clean cloth to wipe any excess cleaner off. 

Allow the brick to dry.
How to Make Your Fireplace Bricks Look New Again
Fireplace bricks can often get soot from the fireplace and look dirty. It's important to take care of your bricks to remain in good shape. You can restore bricks with mortar if you're feeling up to the task, or you can get someone in to repair the damage. If it's a simple matter of sprucing up your bricks, here's how you can do it:
Mix a cup of table salt and a cup of dish soap. This makes a paste.

Apply the paste to the bricks evenly.

Let it sit for up to 10 minutes.

Scrub with a bristle brush.

Wipe the paste off with a moist cloth.
Your fireplace bricks are often an essential part of the room it's a part of. When your home was designed, the room was built around the fireplace. As a focal point, it makes the rest of the room look dull and offputting when it isn't maintained. Also, if your bricks start to loosen and crack, this could lead to bigger problems. It would be best if you considered cleaning the brick on your fireplace at least twice a year. It doesn't take long, and you don't need a lot of products or tools. However, if you're feeling overwhelmed, you can ask your professional cleaners to do this as an extra task or during their deep cleaning services of your home. If there is damage, you can call a professional to do the repairs. Having a new-looking fireplace will dramatically improve the look of the room it's in, so it's worth the effort.
Squeaky Cleaning is a leading Fort Lauderdale cleaning service company. Contact us today and get a free quote!
Like us on Facebook.
Follow us on Instagram.
Follow us on LinkedIn.
Follow us on Twitter.
Get directions on Google.
Get directions on Google.