The Complete List Of House Cleaning Supplies And Equipment
If you have the right house cleaning supplies, you'll be able to clean your home more. By using the proper products, you'll do less scrubbing and spend time in one area. With all the house cleaning supplies and innovations, cleaning your home can be a breeze. We also recommend you have cleaning kits put in places like your bathroom or kitchen. This gives you easy access to the products you need for certain areas of the home.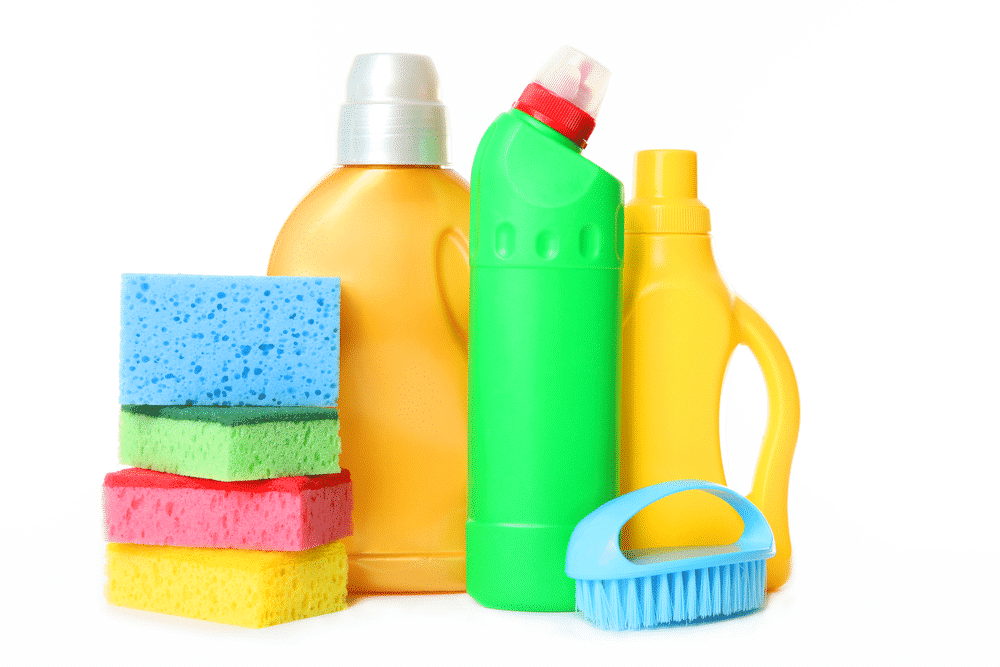 House Cleaning Solutions
There is the all-purpose cleaner that pretty much does it all, suiting all the various surfaces you have. However, some areas of your home may require specialized products as well. Here is the list of must-haves we recommend:
All-purpose cleaner
An all-purpose cleaner is your go-to as it pretty much works for all surfaces. Some more sensitive materials like granite or marble shouldn't be cleaned with all-purpose cleaners.
Tile Cleaner
For tiles, you can use an acid-based solution that is scrub-free. For your tile floors, you can use a mop with a neutral pH cleaner. Don't use the acid-based solution on tile floors as it can eat away at the grout.
Glass Cleaner
You can buy products like Windex to clean all the glass surfaces in your home or use a mixture of vinegar and water. Not only can you use glass cleaner on glass, it's also great for making your metal fixtures shine like faucets.
Wood Cleaner
If you have a lot of wood furniture or flooring, you'll want to add this to your house cleaning supplies list. You want to have a specific cleaner for wood to make sure you don't diminish the finish. You can use warm water and mild dishwashing soap for regular cleaning. There are also specific wood cleaners you should use every once in a while that gives the wood additional moisture and protection.
House Cleaning Supplies You Need
In terms of equipment, there are some items that are going to make your life easier. Remember when the Swiffer came out? You want to have house cleaning supplies that properly and safely clean all your surfaces. This list is all you need:
Microfiber Cloth
This soft cloth is excellent for all manners of cleaning. They don't leave any lint behind and are extremely soft so they're best to use on your soft surfaces.
Scrubbie
Those sponges that are soft and spongy on one side with a gritter scrubbie on the other side help you to saturate an area and get grunge away. For dried food stains on your kitchen counter or something stuck to the floor, this is a great tool. It works for all types of cleanups.
Duster
A feather duster is a fast and easy way to get your dusting done. It's something you can do every few days because, with a feather duster, it takes just a few minutes. You may want to use an extendible duster to get to lighting or ceiling fans.
Rubber Gloves
Make sure to add gloves to your house cleaning supplies list. This is going to save your hands from being exposed to dirt and grime. You also avoid being in direct contact with any chemical cleaners you happen to use.
Toilet Brush
There's nothing else that cleans the inside of your toilet like a toilet brush. Leave it by your toilet and use it often. We recommend putting a cleaner in the area where the toilet brush sits. This allows the brush to be cleaned after it's been in the toilet. It also means that your brush will always have a cleaning solution on it.
Bucket
A bucket is handy because you can fill it up with a cleaning solution instead of constantly going to the sink to clean your sponge or cloth. You can also use it with your mop.
Microfiber Mop
This is a great mop to clean hard surface floors.
Vacuum
If you have rugs, carpets, or upholstery in your home, you want to have a vacuum. Your vacuum can also get into tight cracks around your home like between the fridge and the wall. If you have very few surfaces that require a vacuum, you can get a handheld version.
Specialty House Cleaning Supplies
Hard water cleaners
Glasstop stove cleaner and scraper
Squeegee
With any house cleaning supplies, you should make sure they are going to work for the materials in your home. You can check on the bottle of your cleaning solutions or equipment to make sure there are no warnings. This will help you avoid damaging areas of your home with cleaners that aren't suitable.
Squeaky Cleaning offers the best house cleaning Seattle, contact us today and get a free quote.