15 Reasons Why You Should Hire a Professional Cleaning Service
Trying to keep your home clean takes a lot of time and energy that you probably don't have. You would probably rather spend your free time doing the things you really enjoy. No matter how much you try to keep your home clean, you probably don't have time to deep clean regularly. This is why a professional cleaning service Seattle can be such a good investment. There are actually quite a few reasons why it's beneficial to have a professional service clean your home regularly.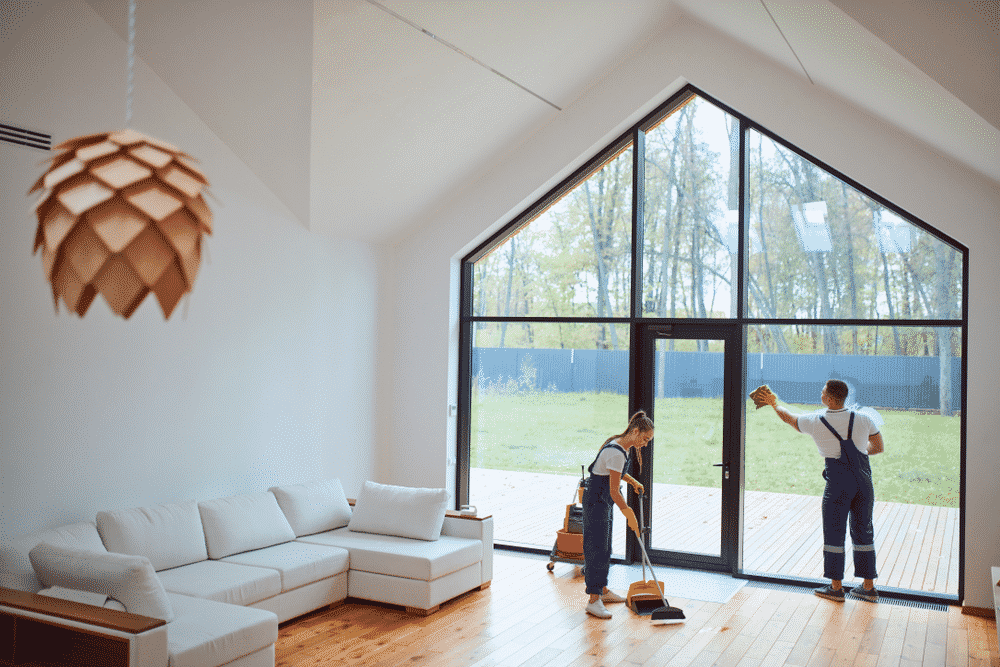 1. Healthy Indoor Air
To keep the air in your home fresh, you want to eliminate dirt, dust, and allergens. This takes a lot of work and it builds up quickly. If you can't get to it regularly, you and your family may inhale these things. Older homes are prone to dangerous contaminants like asbestos fibers and other pathogens. A professional cleaning service in Seattle will get rid of dust, dander, and all the other things that cling on to shelves and countertops in your home. This keeps your indoor air healthy.
Items that collect dust include carpets, drapes, blinds, and upholstered furniture. A professional Seattle cleaning service can do carpet cleaning and air duct cleaning as additional services. They have advanced products and equipment for regular home cleaning that will improve your air quality.
2. More Time to Relax
Cleaning your house is time-consuming but a professional cleaning service can clean your home quickly and efficiently. When you have someone come in and clean your home, you're going to have more time to relax. You can spend time with family or enjoy leisurely activities you wouldn't otherwise have time for. The best part is, you can enjoy it in a clean home.
3. Long Term Savings
When you have professional cleaners come to your home regularly, you are going to prolong the life of things in your home. When cleaning furniture, drapes, and carpets, they will last longer. This is especially true when they do deep cleaning for you as well. The fabric fibers in your carpet, upholstery, and drapes can break down. Cleaning them can preserve them. It's a good idea to opt for a professional cleaning service to do deep cleaning every six months. This deep cleaning takes away any contaminants that could cause the fibers of your household items to deteriorate.
4. The Right Tools do a Better Job
The tools that a professional cleaning service has been going to be far superior to what you have. They have professional tools and products designed for specific jobs. They have high-grade, industry supplies that you likely don't even have access to. They use advanced cleaning tools and methods that will clean your home better. Instead of you trying to clean hard stains, they have tools that make it quick and easy. The end result will be much better as well.
5. Saves You Time
When you don't have to clean your own home, you're going to have a better quality of life. This is something that anyone who hires a professional Seattle cleaning service will tell you. You don't have to do any of the cleanings but when you come home, you'll get to enjoy clean floors and surfaces that sparkle. You'll have peace of mind in knowing that your home is sanitized and that nooks and crannies are free of dust. To do this kind of cleaning yourself would take at least one day out of your week.
Instead, you can get a professional cleaning service to come in. Depending on the team, it could take anywhere from two to four hours and your home will be dazzling. You can catch up on your other chores or just enjoy some leisure time instead of cleaning your home. A professional cleaning service will do the general weekly cleaning as well as other services you might need. Things like blind cleaning or carpet cleaning are other things that take you away from the pleasures of life. Your Seattle cleaning team can do this for you when you need it done.
6. Baseboards, Nooks, and Crannies
One of the important things about cleaning is to have an eye for it. This is what a professional cleaning service looks for in their staff. The cleaners naturally know how to seek out the parts where dust and dirt collect. They are professionally trained so they know what tools and products to use to get into the corners of your nooks and crannies. This is where a lot of dust, dirt, and allergens are going to hide. Your Seattle cleaning team can get into the hard-to-reach parts of your home.
You don't have to get on your hands and knees to try to access the dust and dirt from all corners of your home. There is special equipment and skills that a professional cleaning service offers, making it easy for them. You can leave this tough job to the professionals.
7. Spotless Bathrooms
You probably don't like to clean your bathroom but at the same time, you want it to be clean. A professional cleaning service is going to leave your bathrooms sparkling. They will clean and disinfect the shower, the bathtub, toilets, floors, and basins. They will even help you to restore tile and grout that has water stains on it. A spotlessly clean bathroom is something that every client loves when they hire the pros to clean their home.
8. Deeper Clean
You are not going to have the same kind of impact on your home that a professional cleaning service will. You can scrub your carpets and use as much spot cleaner as you want but in the end, carpets need occasional deep cleaning. You can ask your cleaners to do tasks like this. They can also clean the tile, grout, and stones. They have the right tools and products to do these kinds of deep cleaning jobs right.
9. They Get Rid of Dust Everywhere
Dust is constantly going to be in your home. It's made of tiny particles that include dirt, dander, pollen, and fibers from fabrics and paper. Dusting consistently is important as they'll otherwise circulate in your home. Your cleaners are going to work diligently every time they come to get rid of any dust that's built up since their last visit. They remove dust on blinds, carpets, upholstery, and in all the little corners that dust hides in.
10. Protecting Babies, Children, & the Elderly
Dirty indoor air is not good for anyone's health. If there are elderly or babies in the house, keeping the air clean is important. If you or someone else in the household has asthma or immune deficiencies, fresh air is really important. You can help protect those you love by keeping your clean free of dander and other particles that would otherwise be floating around.
11. Fully Cleaned Shades, Drapes, and Blinds
A professional cleaning service uses its own special process to clean your shades, drapes, and blinds properly. If drapes need to be taken down, they will put them back up. If you have any of the following, they can be cleaned professionally:
Valances
Sheers
Festoons
Tie-backs
Swags
Cascades
By cleaning your drapes, blinds, and shades properly, they'll last longer. They'll be restored to their original luster, and you've eliminated a lot of dust from your home. You can speak to your professional cleaning service to arrange this additional service.
12. Your Home is Party-Ready
If you have an impromptu get-together, you're never going to have to fuss about not having a clean house. You may have to do a bit of tidying but if you have a regular cleaning service, your home is always clean. You can call in for an extra clean if you want to truly impress your guests.
13. Clean Carpets Last Longer
Through regular cleanings and deep cleaning, your carpets will last longer. A professional cleaning service understands what rugs and carpets can handle what type of cleaning. They use cleaning products and methods that work with dyes and fibers in carpets. Your carpets will be safely cleaned, leaving them free of dirt, dust, and dander.
14. Your Home Will Be Your Sanctuary
You should be able to enjoy your home. A chaotic, messy home won't really help you to do that. If you have a clean home you can go home to, you can really enjoy it. By choosing to invest in a professional cleaning service, you don't have to spend your weekend cleaning your home so you can actually enjoy it.
15. Free Time for Your Family
As lives get busier, it becomes more difficult to find time to spend with your family. Instead of spending free time cleaning your house, take the time to be with family. With more free time, you can plan a day trip or go out for lunch together. Finding time to arrange for quality time with those you love is hard to do. Make it easier by hiring someone to do your cleaning and free up a day.
There are so many benefits to having someone come in to clean your home. Even if you like to clean and you're good at it, you may not always have time. A professional cleaning service offers all types of services and schedules to meet your needs.
Get a Quote Now!
For cleaning services, we will provide a quote that is fair and allows us to ensure your place is Squeaky Clean.