What is Commercial Cleaning?
Summary of article:
In this article, we explain the fine details of commercial cleaning services and how readers can start their businesses. You learn all you need to know through easy steps, and we start by explaining what you should consider when starting your own commercial cleaning business. Then, explain how to obtain clients and get contracts for your new business. 
Maintaining a clean office space is a necessity for all businesses. Depending upon the business type or size, there's likely no time to clean the space. Also, many business owners would rather pay specialized workers to clean up. This is where commercial cleaning services provide the cleaning for the business so they can continue to focus on what they do best. The demand makes starting a commercial cleaning company lucrative when done right.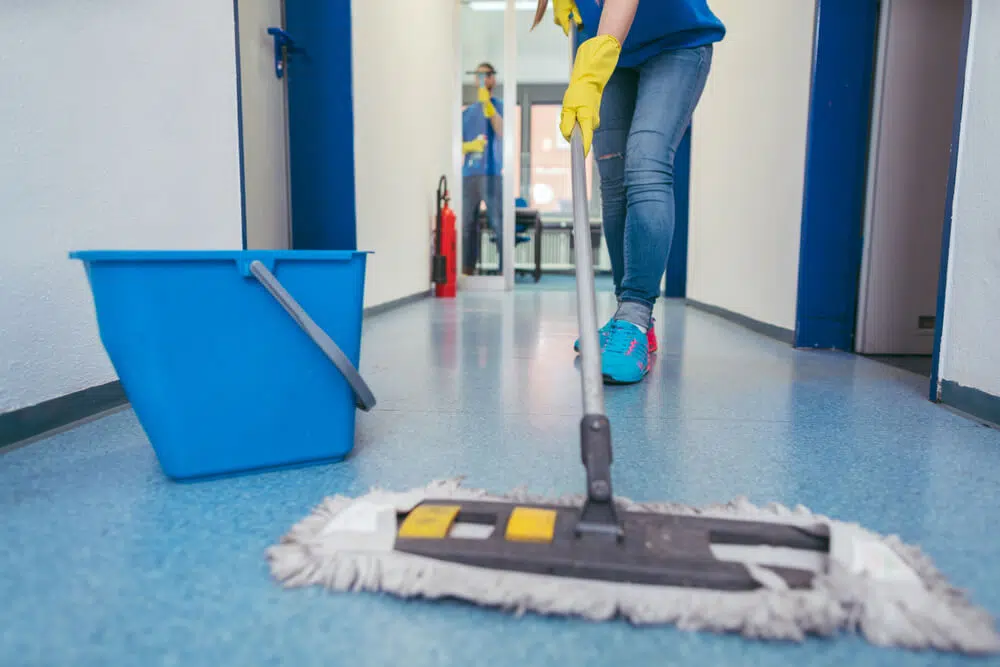 What is Commercial Cleaning?
Commercial cleaning services are geared toward businesses that want to have their office cleaned by professionals. It includes maintaining public spaces through vacuuming, cleaning washrooms, sanitizing high-traffic areas, and dusting. In some cases, you may remove hazardous waste. When thinking about your business, you can decide what you will and won't offer to local businesses. Luckily, you can start small, only taking on clients so that you can provide services and grow your business the way you want. Commercial cleaning can be in office buildings, restaurants, pubs, and any other professional business you can think of.
How to Start a Commercial Cleaning Business
Most people don't typically enjoy cleaning, but it is a viable business. If you happen to love cleaning, it might be the right kind of business for you. Tasks include washing windows, dusting, cleaning toilets, taking out garbage and recycling, cleaning the kitchen, and vacuuming. If you live in a city with a large population, you may also find that you can grow a commercial cleaning business quickly.
Here are the steps to develop your commercial cleaning business for success:
Create a business plan

Become licensed and insured

Invest in cleaning supplies and equipment

Plan your marketing and advertising

Create a pricing structure and billing system, and create contract agreements
Creating Your Business Plan
Any entrepreneur will tell you that a solid business plan is the onset of their success. You will need to decide your business name, logo, brand, and budget to get started. It would be best if you also did some market research to hone your pricing and develop a marketing plan as part of your initial business plan.
Obtaining Permits and Insurance 
Your city may require specific permits or licenses, so you will want to research that information fully. You will need to file your EIN number and other government documents. You also need insurance, typically liability, just in case any items are damaged while cleaning.
Cleaning Supplies and Equipment
You will be responsible for having the cleaning supplies you need. If your budget is insufficient to purchase carpet cleaners, power washers, or floor waxers, you can call other businesses to see if they loan them and at what cost. You will need to make sure you purchase the best cleaning supplies for your budget while keeping your business in mind. If you are advertising your business as eco-friendly, you will need to make sure your cleaning products match your vision.  
Marketing and Advertising  
You will want to get your business name out there to all potential clients, but you also need to be smart about it. If you are building an eco-friendly business, you may not want to print up flyers to hand out. Instead, you could advertise in a local digital newspaper or other similar sources.
Pricing & Billing
Having a pricing structure that is easy to understand will help potential and returning clients. You will also need to know what billing system you want to set up and how you will accept payments. It would help if you created a few contract agreements with specific blanks so you can easily set up any contract quickly, even on the spot.
How to Get Contracts for Commercial Cleaning
Whether starting your business from scratch or a franchise, you will need clients and contracts to run your business. If you start a franchise, you may get more clients initially due to the easily recognized name. However, a brand name won't provide you with clients, and it could turn off potential clients if they had a poor prior experience with that company.
To get contracts and customers, you will need to: 
Do outreach – flyers, website, advertising, business cards, etc. You will need to reach out to potential customers and not just expect them to come to you.

Get reviews and feedback – Ask current clients to leave you a review or provide a written review you can use on your website. 

Make sure you are easily reached – many businesses will lose clients if their pricing isn't clear or they are hard to reach. If you have a phone, website, or email, make sure it is listed on your website and other locations where your business will be searched or seen. 
While there's a lot of work to start your commercial cleaning company, it is a viable business idea. There's not a lot of overhead, and you can use an internet presence to get clients as opposed to having a brick-and-mortar business. Once word gets around, your business can quickly begin to grow. If you follow the right steps, you can quickly see business growth.
Squeaky Cleaning offers the best house cleaning in Miami, contact us today and get a free quote.
Like us on Facebook.
Follow us on Instagram.
Follow us on LinkedIn.
Follow us on Twitter.
Get directions on Google.
Get directions on Google.