Tips For Cleaning Basement Floor
Basement floor cleaning is essential to maintaining your home, and regular cleaning can make it a place to enjoy spending time. Since the basement is either at or below ground level, mold and mildew can accumulate quickly, making the space smell bad.
In this article, we'll show you how to clean the basement floor easily.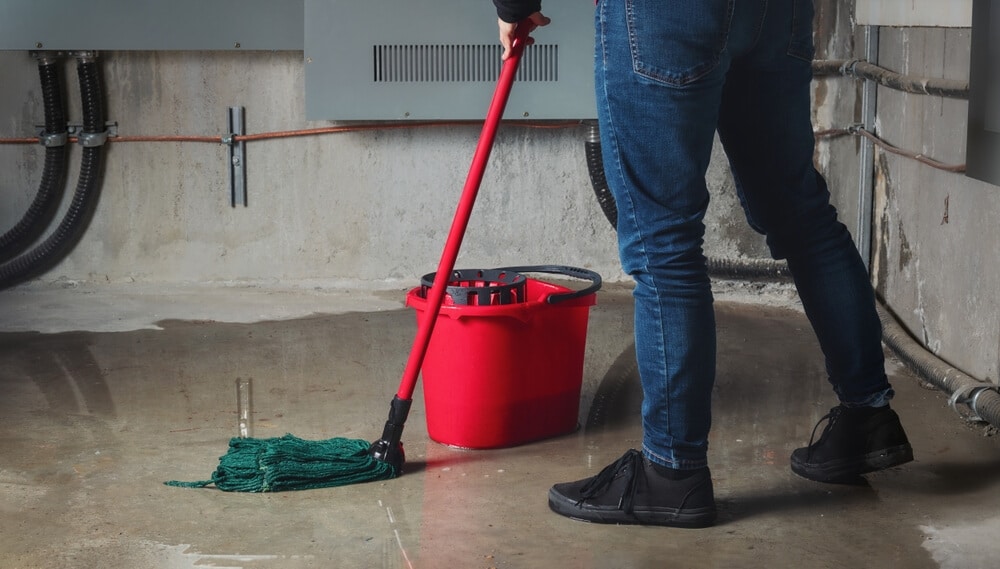 Sweep/Vacuum
A concrete floor tends to accumulate dust and dirt, making it essential to remove it regularly. The quickest way to do this is by using a soft-bristled broom. Additionally, a vacuum cleaner can remove any additional fine dust.
Get Rid of Mold/Mildew
Part of your basement floor cleaning regime should include removing mold and mildew. Due to poor ventilation, moisture can build up in the basement, leading to mold growth. This is unhealthy for your family, making it an important step in the cleaning basement floor. As a preventative measure, open up windows and any entrances to the basement when possible. To clean it, use a mixture of 2 ounces of bleach and 4 liters of water, which should be sprayed onto the floor and walls. Use a scrub brush on the sprayed areas and then clean with a floor mop and a wet cloth for the walls.
If you have a sealed concrete floor, avoiding using bleach is best. Instead, use mild, cleaner, and warm water.
Cleaning Basement Floor of Efflorescence
Efflorescence is a white powder that forms on a concrete floor when water seeps into the concrete and evaporates. It's a soluble salt that's not harmful but can cause deterioration. To remove it, use a stiff-bristle brush to scrub the areas. Waterproofing your basement walls and floors is a good idea.
Cleaning Basement Floor of Rust
If there's rust on your basement floor, use dry cement to rub the area, and the stain should come out easily. Avoid using a metallic brush since it leaves metal fibers in the cement pores, which cause rust buildup.
How to Clean the Basement Floor with Dish Soap and Warm Water
Cleaning your basement floor can use simple dish soap and water solutions, and dish soap has a neutral PH, ideal for cleaning a concrete floor. Sprinkle the dish soap on the floor, pour warm water on the surface, scrub it with a brush, and then mop thoroughly.
These easy steps will ensure your basement floor is clean and free of harmful residues. It's a good idea to go through this process once a month to make sure it stays clean.
Frequently Asked Question
How do you deep clean a basement floor?
You can use trisodium phosphate or another strong alkaline to clean your basement floor deep. They are degreasers, and you have to scrub the cleaner in and rinse it off with a hose. When the floor is wet, sprinkle phosphoric acid.
How often should I clean my basement floor?
It's a good idea to clean your basement floor monthly. This can depend on a few things, as some basements will have better ventilation than others. If pets stay in the basement or a workshop, you may have to clean them more often.
What is the best way to clean a concrete basement floor?
The best way to clean your basement floor is with a simple dish soap and water solution. You sprinkle the dish soap over the floor and then pour warm water. You can use a scrub broom to remove any residue and rinse the floor with a mop and warm water. 
How do you clean unsealed concrete basement floors?
You want to use a mild cleaner for unsealed basement floors. A solution of baking soda and hydrogen peroxide will get rid of stains. The best brush to use is a nylon brush when scrubbing is needed. Use a degreaser to get rid of any stains or oil spills. 
How to clean the basement floor with no drain?
As you pour a lot of water to clean your basement floors properly, you'll have to soak up the water if you don't have a drain. The easiest way is to wring a dry mop until most of the water is gone. You can then totally dry the floor with towels.
Like us on Facebook.
Follow us on Instagram.
Follow us on LinkedIn.
Follow us on Twitter.
Get directions on Google.