The Benefits of Tile Roof Cleaning
While you may not notice your roof often enough, it's essential to maintain a safe and healthy home. Miami tile roof cleaning and sealing your roof will prevent you from paying high costs to have a whole new roof put on. The tile roof cleaning cost in Miami is reasonable if you don't like climbing a high ladder.
If you think about it, your roof plays a valuable service in your home. The defense against all the weather comes along throughout the year. As weather changes, it can cause the roof structure to weaken. When you clean your roof, you remove damaging residue that could break it down. By sealing it, you prevent leaks and seal any cracks. This is why cleaning and tile roof sealing are so important. We'll explain your options regarding doing it yourself or having professionals in Miami come in and why it's such an important part of home maintenance.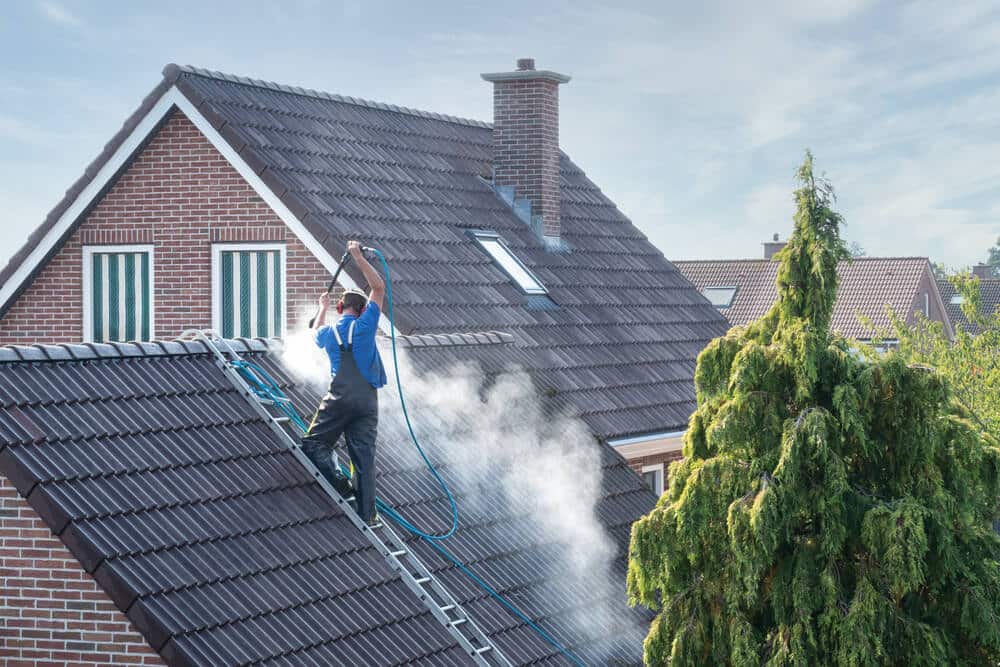 Why Tile Roof Cleaning is Important
Think about all the different weather patterns that come through your area. It's your roof that takes the brunt of it; whether it's rain, wind, snow, or sun, the natural elements all take a toll on your roof. If you do tile roof cleaning and sealing as part of your regular home maintenance in Miami, you can save a lot of money on having to have it completely replaced at some point. 
As time goes on, mold and mildew can build up. Not only does it look terrible, but it can also cause rot, seep into the home and cause health issues for you and your loved ones. 
Why Tile Roof Sealing is an Essential Part
Once you've cleaned the roof sufficiently, sealing it will make it waterproof, preventing bacteria and fungi from wreaking havoc on your roof and home. When you seal your roof, you protect your home from the following:
Ultraviolet Rays
Heat and radiation caused by the sun can break down your roof over time and become very dry and brittle, causing cracks or even warping it. If you live in an area where it tends to get hot and dry in the summer, special roof sealing products include UV protection. 
Fungi
Mold and mildew can become serious problems on your roof, including roof rot. When you do annual tile roof cleaning, you prevent growth, and tile roof sealing will prevent fungi from growing.
High Heat From Inside the House
You may not realize this, but roofs reflect heat. When you use the right waterproofing product, this minimizes how hot your home gets. 
Benefits of Tile Roof Cleaning and Sealing
Remove Debris
Tile roof cleaning in Miami involves removing debris that could otherwise get into your gutters and downspouts. If your downspouts get clogged, they don't properly drain the water, and this can cause water damage to your home. 
Prevents Algae and Moss Buildup
If you've ever seen a home with a mossy roof, you know how unsightly it looks. Not only that, but it causes damage to your home. Moss and algae will hold moisture close to the roof, eventually leading to rotting and leaking. This will lead to the ceiling and walls of your home, causing potential health hazards. 
Makes Your Home Look Good
When having a clean roof helps your home look neat and tidy. A well-maintained roof is essential if you want to sell your home in Miami or take great pride in it.
Your Roof Will Last Longer
Having your roof redone comes at a high cost. The Miami roof tile cleaning cost is much more reasonable and allows it to last longer. You prevent leaks, which means there is no reason to replace them. When you clean and seal your tile roof, it's a major money saver. 
How to Clean Roof Tiles
You can get on a ladder and do the tile roof cleaning yourself or have a professional do it for you. They have all the tools needed, so hiring someone reputable and professional might cost less than buying the required products and equipment. The tile roof cleaning cost is reasonable enough.
Trust the cleaning experts to refresh your home with meticulous attention to detail. Our experienced team uses proven techniques and eco-friendly products to leave your space sparkling clean. Schedule now for worry-free cleaning services Miami.
Frequently Asked Question
What is the best way to clean a tile roof?
A low-pressure power washer can be used, but you shouldn't aim right at the tiles, or they may crack. Use a solution of dish detergent and warm water. Work backward when cleaning so you're not standing on wet areas.
Should you pressure wash a tile roof?
It's not always recommended that your pressure wash tile roofs, which can reduce the tiles' life, causing damage. Trained professionals know how much pressure can be used, but it's not recommended for those who don't have professional training in cleaning a tile roof.
How much does it cost to clean a tile roof?
The average cost for a home to get a professional tile roof cleaning can range from $1,000-$1,500. This would be a full package, which would include a cleaning as well as a sealant. For just the sealant treatment, it would cost from $600-$1,000.
How often should you seal a tile roof?
You don't need to seal your tile roof often. For best maintenance practices, you should reseal every 15-20 years, depending on the elements in your area. Sealants last long to protect tiles from being porous and retaining moisture.
What happens if you don't seal tiles?
There is a risk of grime and water getting into the tiles as they become porous, which can cause cracks in the tiles, leading to breakage. When you seal the tiles, you protect this from happening and eliminate harmful buildup.
Like us on Facebook.
Follow us on Instagram.
Follow us on LinkedIn.
Follow us on Twitter.
Get directions on Google.
Get a Quote Now!
For cleaning services, we will provide a quote that is fair and allows us to ensure your place is Squeaky Clean.