Ceiling Cleaning Tips 2023
Something that many homeowners often forget to do is ceiling cleaning. Your ceiling is likely neglected but does need to be cleaned from time to time. It's a good idea to make it a part of your spring cleaning regime. Over time, your ceiling can look gungy from dirt and dust build-up. There are different types of ceiling materials, so it depends on what sort of ceiling you have that will determine how to clean it effectively.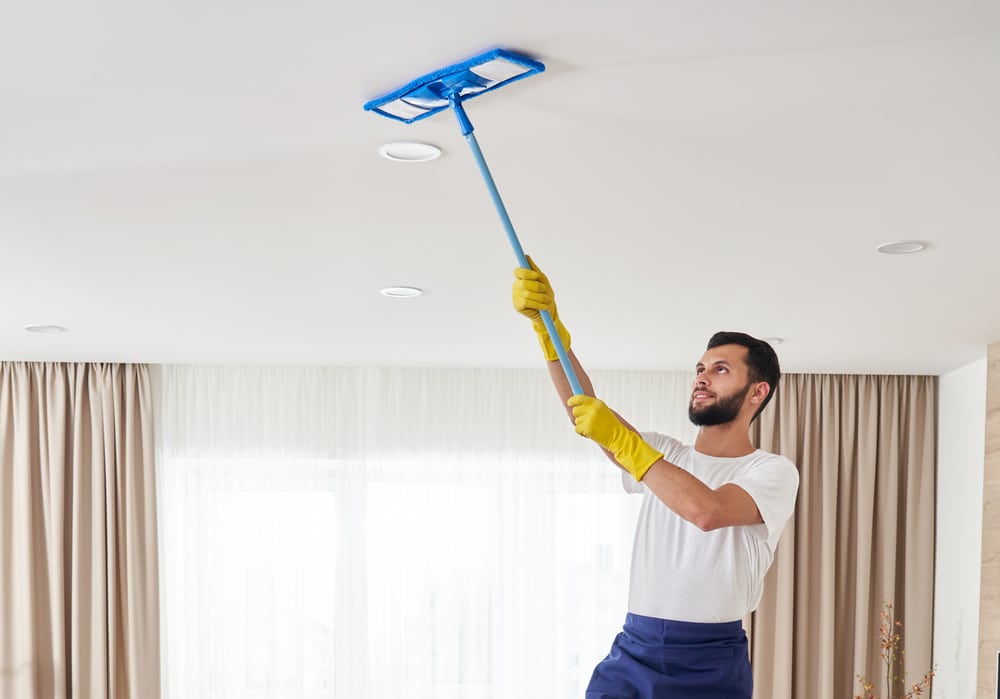 Why Is Ceiling Cleaning Necessary?
As time goes on, all areas of your home can end up with a fine film of dust. Ceiling cleaning is a necessary part of maintaining your home. The kitchen is often responsible for causing smoke and grease on your ceilings. If you don't clean them, they can end up discoloring. If there is a lot of moisture in certain areas of the home, like your bathroom, it can lead to wet spots on your ceiling, leading to mold if not dealt with. Ultimately, your home will be much fresher once the ceiling matches the rest of your home. Cleaning your ceiling has plenty of benefits and doesn't have to be that hard. Some great tips make the process easy.
Ceiling Cleaning for Different Materials
To best maintain your ceilings, you'll want to do a thorough ceiling cleaning twice a year. You can also do spot-checking throughout the year as cobwebs build up or you notice scuff marks and stains. You can do a thorough wipe-down of ceilings while you're doing a good cleaning of your home. This would be included in a deep cleaning regime so if you're creating a task list for your cleaners, make sure to add it there.
Ceiling Tile
Ceiling tile includes vinyl or fiberglass material, which is easy to clean because it can handle strong cleansers. If there are stains on your ceiling, you can use any of the all-purpose cleaners on the market to treat any stains or marks. To cover a big area, you can use water and dish soap to conquer the task.
Painted Ceilings (Flat)
You will have to use a gentle solution for ceiling cleaning on flat, painted areas. We would recommend water and dish soap. Use a soft cloth and soak it in the mixture. When you wring it out, you want to get enough water out that it's not wet any longer. It should be damp and not too moist as this can cause damage to the ceiling. Don't use abrasive tools like cubbies, as this can damage the paint's surface.
Textured Plaster or Stucco Ceilings
This type of ceiling is also known as a popcorn ceiling. It was trendy quite some time ago but still haunted the ceilings of many houses. They are certainly not the easiest ceilings to clean and should be done carefully. Dry methods are the best and safest way to clean any type of textured ceiling. Many cobwebs and dust tend to sit in the nooks of these walls, so you can use a feather duster to get rid of them.
Vacuuming your ceiling with a gentle attachment will also eliminate any dust on the ceiling. Recurring wet spots may signal damage or ventilation issues, so you may have to get a plumber or general handyman in to see where the problem is coming from. There's not much you can do about the damage of wet spots on a popcorn ceiling, which can cause mold to form.
Step by Step Tips on Cleaning Ceilings
There are a few steps to ceiling cleaning to go through. If you're cleaning your home fully, dust the ceilings first, as there may be dust falling. You can use a duster with a long handle to avoid using a ladder. If you have vaulted ceilings, you may have to use the ladder.
Dust
You want to close the windows and turn off ceiling fans so that dust doesn't fly everywhere. You can use sheets to protect items if you want to cover certain belongings from falling dust. You'll want to have a duster with a long handle attachment. Go over the ceiling in slow motion, making sure to overlap your strokes. If there's stubborn dirt, an easy way to remove it is with a paint roller wrapped in duct tape with the sticky side facing out.
Cleaning Painted Ceilings
To wash your ceiling, you want to combine 1 cup of warm water and a few drops of dish detergent with 2 tablespoons of white vinegar. Put all ingredients in a spray bottle and use a light mist. Spray a little bit onto a small area with a slightly dampened microfiber mop. This will get rid of any soap. You'll want to rinse the mop regularly to avoid any streaking. Let it dry completely before you let air into the space by leaving your ceiling fan off and keeping windows closed.
Textured or Popcorn Ceilings
You can slowly roll a clean paint roller over the ceiling to eliminate light dusk. This will loosen up any dirt or dust. You may need to change the roller a few times when it looks dirty. Vacuuming the ceiling will also help get rid of stubborn dust and dirt. Use a soft-bristle brush attachment when you vacuum.
Clean Tools as You Go
You want to clean any tools you're using quite often. Make sure you've given everything a good cleaning before you begin. This includes your dry duster, microfiber cloths, and whatever tools you're using. Remove any cobwebs from the duster often, and rinse cloths. If you don't, you could leave dirty marks on the ceiling.
Prep for Vaulted or Cathedral Ceilings
You may have some areas in your home that are higher than others. Make sure you have any extensions for cleaning supplies. You can get an extra long extension for a duster and use a step ladder instead of trying to navigate with a tall ladder that you must keep climbing up and down to move around.
Be Gentle Around Exposed Woodwork
If you have natural wood finishes that connect to your ceiling or the ceiling itself, the best way to clean it is to use a duster for cobwebs and a pole vacuum with brush attachments. Anything else will coat the wood, causing damage or making it look worse than when you started.
We often forget about ceiling cleaning because it rarely gets touched, yet it can get very dirty over time. Whatever gets stirred up in your home can end up on your ceilings. This includes dust, dirt, grime, cooking grease, and oil. If you let it build up, it can become sticky and look awful. It also becomes challenging to clean. It's better to tend to it twice a year to avoid permanent damage. If you have the right tools, it's not that hard. You can also have cleaners come in specifically to do the ceiling cleaning and save yourself time, money, and hassle.
Get a Quote Now!
For cleaning services, we will provide a quote that is fair and allows us to ensure your place is Squeaky Clean.