How to Clean an Apartment Balcony
A balcony is an additional space to enjoy but to best enjoy it, and it should be cleaned regularly. This keeps your outdoor space looking nice and maintained. It's additional space you can enjoy if you remember to do regular cleanings and keep it tidy. It's not just about looking good because keeping it clean and tidy prevents rats and pigeons from taking it over. Check out the best methods to clean a balcony with our helpful guide. There are different methods based on the kind of balcony you have and what it entails. We cover all the standard balcony types and tell you how to clean them most quickly and efficiently.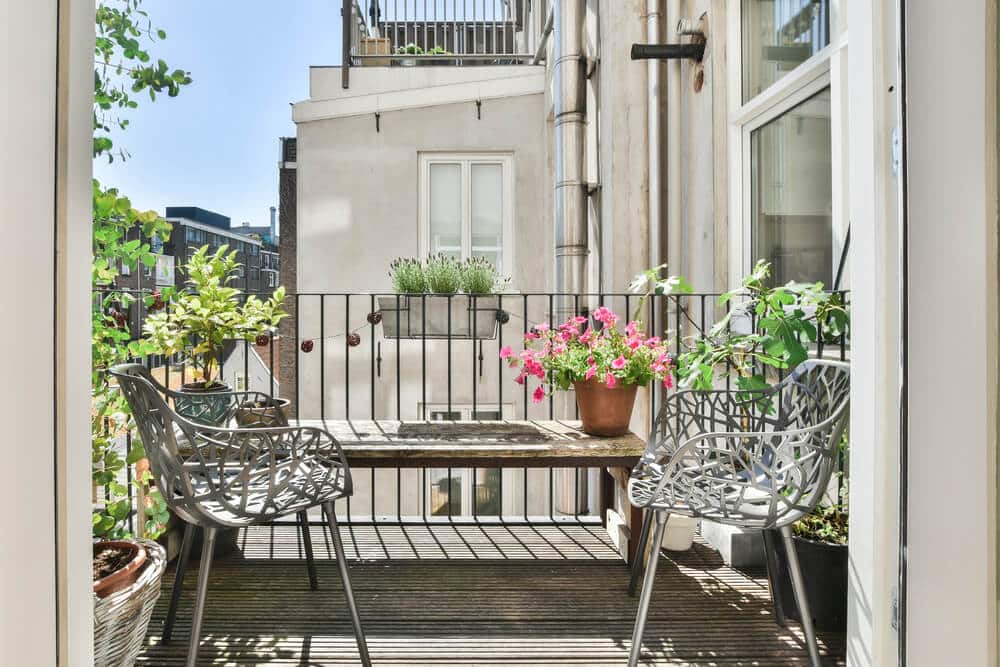 How to Clean Balcony Railings
There are different kinds of balcony railings, so you'll find different ways to clean them. 
How to Clean Balcony with Glass
If there is glass on your balcony, follow these steps:
Use a mixture of soap and water and wash everything down. This will get rid of any dirt.

Wipe surfaces of glass with vinegar and water.

You want to polish the glass until all the moisture is gone, so you don't leave any streaks. 
Vinegar is all you need to purchase for cleaning the glass on your balcony. You can dilute the vinegar with water for a perfect cleaning product for glass. We recommend doing this once a week.
How to Clean Balcony Ceilings and Doors
Any material your balcony is made of will have instructions on how to care for it. Make sure to check out what they are. In general, we'd recommend a mild detergent that you can mix with water. Also, bring an outdoor brush with an extension for the job. First, you should use a duster to get rid of any cobwebs. Then, dip the brush into the mixture and clean your ceilings and doors. Let it air dry.
How to Clean the Floor of Your Balcony
This is probably the part of your balcony that gets the dirtiest. You want to eliminate any food that has fallen on your balcony floor. This prevents pests from making themselves at home. Litter and grime buildup also accumulate quickly if you don't do regular floor cleanings. 
Preparation of Cleaning Your Balcony Floor
It's important to prepare yourself before cleaning your floor. You first want to remove potted plants, outdoor furniture, decor, and accessories. This makes it way easier to clean your balcony floors properly. While you've moved items out of the way, it's an excellent time to clean them with a damp cloth. You'll want to use a stiff broom to sweep the floor. You'll find that the dirt will collect in any corners, so you may want to use a shop vac to get into any nooks and crannies. 
Metal and Tiles
Metal or tiled floor is one of the most accessible types of floors to clean, thanks to their low-maintenance nature. You can use a multi-surface cleaner with some water or dish detergent in a mop bucket:
Start from the farthest corner and mop towards the entry of your apartment. 

If you have tiles, you can use a grout cleaner to spruce up your grout. Mop again afterward.

Hose the floor down if possible.

Let air dry and put everything back once it's totally dry. 
Wooden Floor
How to clean a wooden floor is a bit different. You'll need to be more cautious and refrain from using harsh chemicals. They can take the finish away and leave it untreated. You can create your old mild wood cleaner with the following ingredients:
¾ mop bucket full of warm water

¼ cup dishwashing liquid

1 cup white vinegar

3 drops of baby oil
Baby oil isn't necessary, but it will condition the wood safely and give it a nice mild shine. You can mop in the same way you would with the above instructions. If there are stains, you can use sodium percarbonate. You scrub this onto the deck with a stiff brush and let it sit for up to 15 minutes. Then rinse off by using the mop and clean water. 
Concrete Floor
Concrete floors are quite easy to clean with the following cleaning recipe:
Two parts bicarb soda

One part bleach
Use this mixture on the floor and scrub with a stiff brush. Let it sit for up to 30 minutes. You can rinse off with a hose or mop with clean water.
How to Clean a Balcony Without The Use of a Hose
If you live in an apartment, you probably won't be able to use a hose, so there are other ways to rinse off cleaning products. You can always use a mop bucket full of warm, clean water. To avoid any water dripping down to other tenants' balconies in your building, there are a few options:
Soak up water while you clean with microfiber pads.

Block the gap with a tarp.

Use a wet vac to vacuum up any excess water. 
How to Clean Balcony in Apartment Building Etiquette
DO'S
Sweep any dirt into the middle of the space and use a dustpan.

Try to avoid sweeping when it's overly windy.

Use a mop and bucket to rinse the balcony.

You can alternatively use a wet/dry vacuum.

Plug any holes in the balcony to avoid dripping water down. 
DON'TS
Sweep any dirt over the edge of your balcony. This can cause dust and dirt to fall on balconies below.

Don't drench your balcony with too much water, as it can run down to other balconies.

Don't push any dirty water over the edge. 
Cleaning your apartment balcony shouldn't take too long as it's usually a small space. To best enjoy your outdoor space, it's a good idea to tidy up as soon as you're finished eating or entertaining outside. If your balcony has crumbs left on it, you could attract birds, and your space becomes much more high maintenance. If you have a BBQ, do a good cleaning of it every time you cook on it. Don't forget to clean your windows as part of your balcony cleaning regime. With a little bit of cleaning regularly, you can continue to enjoy your outside oasis.
Squeaky Cleaning is a leading Miami cleaning service. Contact us today and get a free quote!
Like us on Facebook.
Follow us on Instagram.
Follow us on LinkedIn.
Follow us on Twitter.
Get directions on Google.
Get directions on Google.