Best House Cleaning For Seniors – Complete Guide 2023
For seniors, it's not always easy to maintain your home. It could be health issues or the feeling that you don't have enough energy to do it all. House cleaning is extremely labor-intensive, and it can be difficult to reach high areas or crouch down low. Scrubbing toilets, dusting, mopping, and vacuuming are all physically demanding, and not everyone is up to the task. Not to mention, there's a potential to hurt yourself by falling. This is why it's important to consider having a cleaner come in to assist with the task of keeping your home clean.
Benefits of Maintaining a Clean Home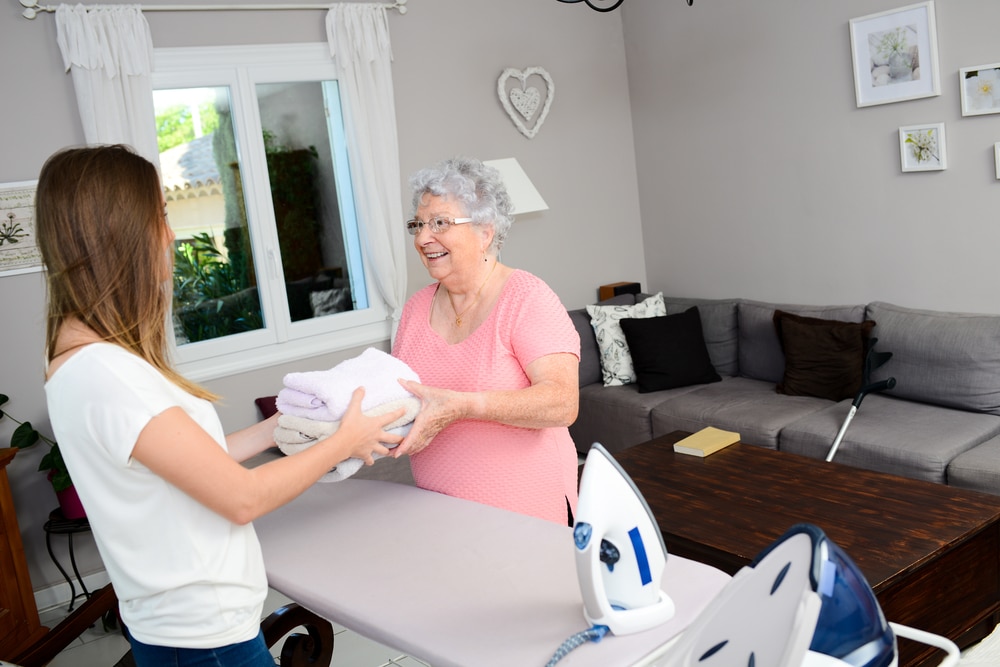 Many of us prefer a cleaner home, and seniors are no different. It may be even more important to maintain a clean home as a senior than at any other time. Breathing in good air in your household helps to keep you healthier. When you retire, you spend even more time in your home, so it must be clean and tidy.   
Free clutter – all clutter can cause a senior to trip and fall. Unfortunately, these accidents can lead to death for seniors, and many do. By ensuring there is no clutter or obstacles for your loved one, you can rest easier, and so can they. 

Mental peace – having clutter can affect your happiness, so it is important to clear the clutter for mental peace. 

Prevent allergies – we all hate allergies, which can affect us all, but as a senior, it is easier to be more affected by allergies. Additionally, simple allergies can lead to more serious illness as a senior, so continuous housekeeping is important to remove dust, mold, and bacteria that can affect your loved one.  

Preventing harmful bacteria and diseases – seniors can be more susceptible to catching diseases, so thorough cleaning and disinfecting are important. 
As you can see, maintaining a clean home is very important for the health of your loved one, which is why it is important to lend them a hand with the cleaning or help them hire the best professional for the job.
House Cleaning for Seniors  
Aging is an unavoidable and natural process, but sometimes there may be situations where your loved one can no longer handle their housekeeping alone. For these situations, it is important to have an honest discussion with your senior to know what they feel comfortable and uncomfortable completing. If you cannot always help them, it may be time to reach out to a professional. 
Senior housekeeping services are:
Carpet and upholstery cleaning

Checking for spoiled foods and cleaning out the fridge

Cleaning bathrooms

Cleaning countertops, stoves, and ovens

Cleaning walls, baseboards, windows, and other surfaces

Cooking meals   

Dusting

General cleaning

Laundry and pressed clothes

Making beds

Mopping floors

Organizing closets and cupboards

Polishing silverware

Preparing medications

Smoke detector and carbon monoxide check

Taking out the trash

Vacuuming

Washing dirty dishes

Wiping down kitchen appliances  
Professional house cleaning companies can offer various cleaning services in Fort Lauderdale, so you must discuss which items you want and need for your senior. Perhaps you can assist with some of the tasks and hire for the others, but you will need to discuss all items with your loved one to create the best plan for both of you.
Tips for Finding the Best Housekeeper 
When it comes to your loved one, you will need to find the best housekeeper for them. Discuss their expectations beforehand so you can have the best chance of finding the right one for them. Does your senior want to talk to their housekeeper, or would they rather be left alone? Are there any items or areas in that your loved one wants to be left alone? Knowing those can help set up the right expectations with the company.
When looking for senior housekeeping services, check out the following:
Are they insured and bonded?

Are they prompt, professional, and friendly?

Do employees submit to background checks?

Do they have references you can call and confirm with?

Do they offer a trial period?

How do they price their services?  

How do they treat other clients?

Reviews – did others enjoy their service? 

What schedule do they recommend for seniors?

What types of cleaning products and chemicals do they use?
Benefits of Hiring House Cleaning for Seniors  
If house cleaning has become too cumbersome for your senior and too much for you to take on, then it would be beneficial to both of you to hire a professional. Not only will a professional cleaning service provide your loved one with a clean and sanitized home, but there are other benefits to hiring a professional cleaning service:
Additional check-ins – you can ease your mind knowing that someone else is checking in on your senior, and it's not just your responsibility. 

Better products – professional cleaners can access products that the general public doesn't. These products can cut through grease and grime easier but also have less odor.

Free time – you can focus on your family and career, but when you visit your senior, you can enjoy that time. You won't have to clean up each visit feverishly; instead, you can sit and soak in the moments. 

Increased dignity – when living in a cluttered and dirty environment can increase depression and hopelessness. Still, by getting a professional cleaning service, you can restore the dignity of your loved one and know they can be excited to invite others over freely. 
How Seniors Can Help
Not all seniors will be ready to give up all the household cleaning tasks freely, so it is important to let them assist if they want on tasks they can handle. Make sure you and your loved one are honest about what they can physically handle first—there is no sense in having them try to help out only to get injured.
Some tasks seniors can easily handle:
Automatic robot vacuum

Dishwasher

Dusting without moving items

Sweeping

Taking out the trash in small bags – make sure it is taken out frequently in smaller bags.

Wiping down counters
Remember to talk to your loved one and create a game plan to keep their home clean. Their safety is of the utmost importance, as one in five seniors will fall due to housework. Have an honest discussion about hiring help when needed because knowing your loved one is safe and healthy is more important than them doing everything themselves.
Like us on Facebook.
Follow us on Instagram.
Follow us on LinkedIn.
Follow us on Twitter.
Get directions on Google.
Get directions on Google.