The Ultimate Guide to Cleaning Your Home in 30 Minutes or Less
We all want to know how to clean our house in a short amount of time. A clean home is a happy home, but we need more time and patience to dedicate ourselves to hours of mindless scrubbing. We're here to tell you that it doesn't need to be a long, mind-numbing task, and there are ways to get your home sparkling in 30 minutes. Check out these tips, tricks, and printable checklists for you to follow.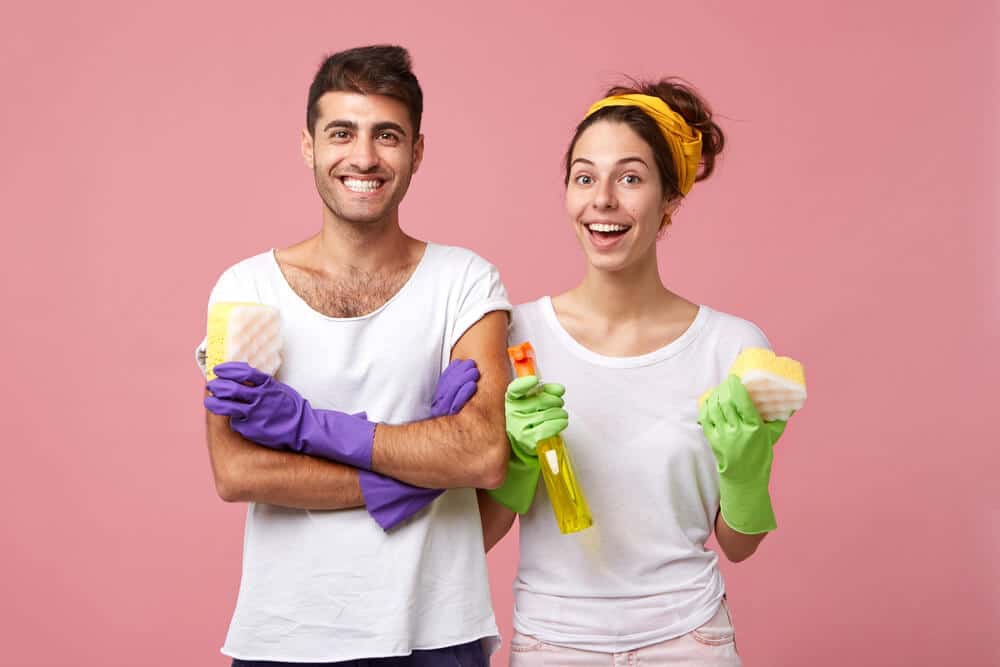 Tips and Tricks
1. Begin with a trash bag
Be honest with yourself about items you are holding onto that you can throw away. If you have children, you're sure to find candy wrappers and discarded papers all over, so start by clearing out all the garbage first.
2. Next, go around with a laundry bag
Usually, clothes are the culprit for causing messy houses. Items are left on the bathroom floor etc. Do a speed run through every room and pick up everything. Even if you don't have time to do a load, at least you can put it in a closet to complete it later.
3. Create a cleaning caddy
Fill up a caddy or container with your favorite products, including disinfectants, dusters, wipes, etc. Remember to use several different clothes/sponges to avoid contaminating anything. We always advise cleaning the bathroom last.
4. Set a timer for 30 minutes
The first few times you do this, you may go over timings, but the goal is to practice and be able to complete the tasks in under a half hour.
5. Speed clean
As you work against the clock, you will be more motivated to beat it. Doing one room at a time, ensure you are wiping down surfaces and polishing when necessary. Disinfecting wipes also work super well for speedy cleaning. Don't forget mirrors!
6. Involve willing participants
Children tend to love games; if they have a messy playroom or bedroom, you can tell them that mom is doing a speed clean and racing against the clock. They must quickly put all their toys in the toy box if they want to play.
7. Speedy vacuum
This doesn't have to take a long time. If your floors need to be vacuumed or swept, focus on high-traffic areas, corners, and visible dust.
8. Fluff pillows and cushions and lay out fresh towels
Nothing is better than an inviting sofa or bed to make a home look fresh. Make sure everything is fluffed out or plumped up to give that show-home feeling.
9. Spray something fresh, light candles, or make a coffee
Spraying a fresh scent can make your home feel like a whole new environment. Lighting a candle, baking fresh bread, or even the scent of a strong coffee can complete the job. Now you can genuinely relax and enjoy your coffee too.
Checklist for a Speedy Clean
Concentrate on Important Spaces.

Declutter

Have clean bedsheets ready in advance

Spray rooms with a natural freshener or light a candle

Vacuum high-traffic areas

Pick up laundry

Put dishes left out in the dishwasher

Use an all-purpose cleaner to spot-check all areas

Clean toilet bowl

Use vinegar and water on faucets and polish
Frequently Asked Questions:
How much should someone pay you to clean their house?
It's reasonably priced and varies depending on how deep you clean and the services you offer. You should make even premium cleaning affordable as it will be an ongoing, regular service. The size of the home and the state of the home usually define the cost. If there's a large family and pets, you can charge more. Cleaners make between $20-$80 per hour, give or take.
What is the going rate for house cleaners in Florida?
Home cleaning in Miami varies. If you decide to have a cleaning once monthly, the cost is around $50 per hour. However, if you choose a cleaner to come weekly or bi-weekly, you will find plenty of discounts.
How do you clean your house like a professional?
To clean like a professional, the key is in organization. Following our top tips and checklist will help you arrange your time accordingly so that when you begin, your trash and laundry bags are ready, and your cleaning products are all organized. Being mindful of decluttering regularly will be a huge help.
What is the most efficient way to clean my house? 
Home Cleaning is a chore, but it doesn't need to be a hassle. Doing a deep clean bi-weekly or once a month makes life easier for your daily or weekly clean-ups. Teaching your children to put toys and clothes away will make a big difference too.
How to do general cleaning at home?
Using our list of tips can make General cleaning easier. Ensuring you have the correct products and putting away utensils and tools after using them will help a lot. Having a set place for keys and mail will keep surfaces clear so you can do a simple wipe-over regularly, meaning that when you do, your thorough weekly clean should only take a speedy 30 minutes.
Like us on Facebook.
Follow us on Instagram.
Follow us on LinkedIn.
Follow us on Twitter.
Get directions on Google.
Get a Quote Now!
For cleaning services, we will provide a quote that is fair and allows us to ensure your place is Squeaky Clean.